Leading indicators were still shrinking in May. COVID-19 cases were expanding fast, and economies were still largely at lockdown. Lockdowns have since been lifted, but preliminary indicators for June indicated continuing contraction. Only China seems to have been able to grow in June, so Q3 outlook doesn't look very good. Stock markets have also voiced their view on the matter though, and indicate growing economies in many developed countries, including US and China.
Still contracting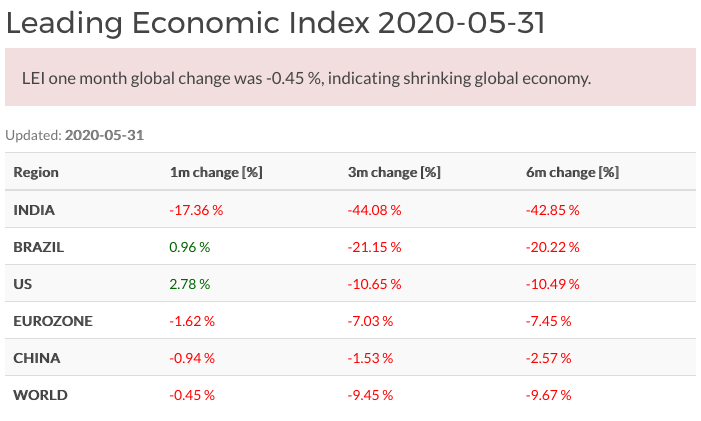 In May, one month change of Leading Economic Index by The Conference Board indicated slowing economy in China, India and eurozone, while US and Brazil were already growing. Overall GDP weighted one month world LEI still indicated contraction, although only slightly and noticeably less than in three and six month timescales.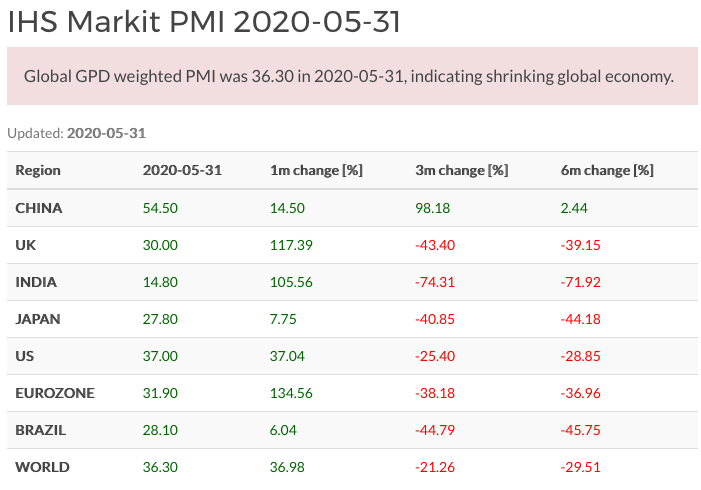 World Composite PMI was 36.3 in May, indicating still sharply contracting global economy. The depth of the decline was apparent with only China posting readings above 50. UK, India, Japan, US, Eurozone and Brazil had some of the lowest ever recorded PMI numbers.
H2/2020 outlook
While COVID-19 cases are still growing at fast pace in some big countries like US and Brazil, this doesn't seem to have an effect on the stock market. Essentially stock markets are saying that despite current case loads, infections will shrink at some point later this year and further lockdowns do not have adverse material effect on company earnings, on top of what is already discounted in the price. Another way to say this is, that current pandemic situation and outlook is already fully priced in the stock market.
Adding this to noticeably improved June PMI readings, H2/2020 might be relatively strong in terms of recovery.
Subscribe for future updates
I've made this periodic economic outlook also available at Substack. Please subscribe to receive future updates to world economy delivered to your email.